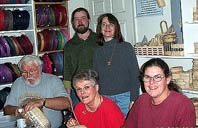 2/18/04 A group of enthusiastic basket makers gathered in metropolitan Rocky Point, NC to weave with Eric Taylor and Susan Brooks, who made a stop at Sarah's Baskets before heading home to New Hampshire after the GBA convention. At left, Joseph, Bonnie, and Christine work happily while Eric and Susan monitor their progress.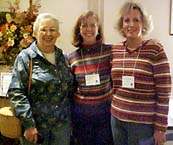 2/18/04
Jettie Fulton, Judi Swaim, and Lynn Schroeder took a break from their NCBA class assignment duties in order to attend the Georgia Basketry Association's annual convention in February. According to NCBA President, Jimmie Kent, the three women have "done an outstanding job of keeping everyone happy with their classes." She added, "Judi is one of those that has gone the extra mile to please our members and she always does it with a smile." Ah yes, it's a fine association we have here.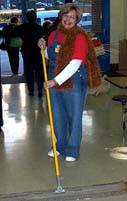 1/25/04
All dressed up and no place to go! That's because the second day of the Country Weavers' annual weave-in was cancelled because of inclement weather. So President, Montina Aldridge, who it is rumored, spent her children's inheritance on raffle tickets in order to win the fuzzy knitted scarf she is wearing in the photo at left. Having spent said inheritance, she now pushes a broom, but she got that scarf! Brunswick stew, grilled cheese sandwiches (the Triangle weavers showed up as much for these as they did for the baskets), Jane Bradsher's pound cake, chocolate chip and other cookies by the ton, breakfast croissants, and on and on. Well! Are there any other reasons to get up at five am to get to Roxboro for a great Saturday? The men and women of Country Weavers did themselves proud once again.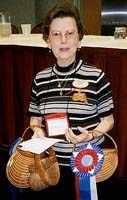 1/25/04 Donna Rose and her daughter, Kathryn Jacoby, are featured in the current issue of Basket Bits magazine. Donna, you will recall, won the Viewer's Choice award as well as first place in the Ribbed Baskets category at the 2003 NCBA Convention for her handsome leather ribbed baskets. Kathy, a talented gourd artist, now concentrates on decorative painting.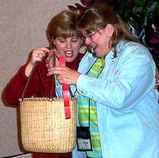 1/20/04 The usual fabulous time was had by everyone who attended the Tidewater Basketry Guild's annual Guilders Weave January 16 - 18. Many members of the Virginia, Maryland, and Pennsylvania guilds also are NCBA members, and several teachers were from North Carolina again this year. No big snow storm this time around, but Guilders Weave Chair Cindy Stanton, Guild President Laura White, their crew of green-shirted Tidewater hosts, and the Point Plaza Hotel staff did their usual best to make everyone feel cozy, welcome, overfed and overindulged. Above: Sandy Sowers, the envy of everyone at Guilders Weave 2004, couldn't believe she'dwon Billie Dorris' beautiful Nantucket purse in the Raffle. GW Chair Cindy Stanton (in red) assured Sandy that her ticket number was, indeed, the winning one. Dick Moff 's set of nested Shaker Boxes was the other coveted raffle prize; it was won by Carol Ann Blair, who, by the way, won last year's raffle prize. Give your tickets to Carol Ann next year and let her win for you. Click HERE for more on Guilders Weave and Tidewater Basketry Guild.
More photos of weaving events!
Site Map
Bonnie Kuhr is getting a scrapbook together of past NCBA activities. Please send hard copies of photos to her address as listed in the member roster.
If you have photos of weaving evens, or other news of interest to NCBA members, please send it to:
Cathy Schneider, web reporter; or Pamela Zimmerman, web technician. Please include as complete information as possible, including names of individuals shown in photos!
If you have no means of digitizing your pictures, send to Pamela at their address in the member's roster. Please send SASE if you would like the photos returned!