| | |
| --- | --- |
| | ABOUT THE NCBA . . .** |
A love of basketry led to the founding of the NCBA in 1985. The organization was incorporated in 1991. Lyn Siler served as the first NCBA President. The first workshop, hosted by the Winston-Salem/Arcadia Basketmakers, was held in Winston-Salem, NC in 1986. The first Convention, co-chaired by Lyn Siler and Judy Wobbleton, was held in Goldsboro, NC in April 1987.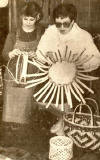 The two-day event eventually became a four-day convention. 2005 marks the 20th anniversary of the NCBA.
2006 marks the 20th Convention! (This photo of Lyn Siler and Jean Rice preparing for the first NCBA Convention appeared in the Goldsboro News-Argus, Thursday, March 5, 1987.) Click to enlarge.
In addition to the annual convention, a Fall Seminar generally alternates east/west each year, and is held between September and November. See the Events page for details. This seminar is a mini-convention, complete with classes, vendors, and lots of chatter, laughs, and reminiscences.
Membership is required to attend NCBA events, including convention. Membership benefits also include The Reeders' Report , the official NCBA newsletter, published four times a year; Jean Lovelace , editor. Items of interest or inquiries may be sent to her at s-jlovelace@charter.net . Deadlines for submission of information are January 1, April 1, July 1, and October 1. Other publications include a Membership Directory and a convention brochure, both published annually.
Our Board of Directors are volunteers, elected from the general membership.
If you share our love of basketry, we hope you'll do something about it. Join a local guild and/or become a member of the North Carolina Basketmakers' Association today!
Copyright © 2017 North Carolina Basketmakers' Association, Inc. All rights reserved.
Webmaster